About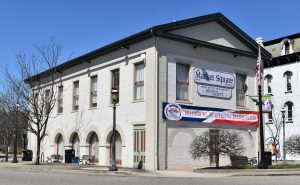 Since the early 1990s, the City of Miamisburg and community members have actively supported policies related to the revitalization and historic preservation of its downtown district. City officials consider downtown to be a community asset and a key part of Miamisburg's heritage and uniqueness. They are intent on preserving downtown as a vital part of the City.
Downtown Miamisburg Inc.
To that end, there have been significant efforts focused on capital investment and public/private partnerships, with a goal of making downtown Miamisburg a destination for dining, entertainment and other activities. Following the recommendations of a master plan developed for downtown and adjacent riverfront area, Miamisburg City Council in 2001 approved the formation of Downtown Miamisburg, Inc. (DMI) as a non-profit 501(c)(3) organization. This new entity was formed to lead the implementation of that master plan. Leadership for DMI is comprised of a nine-member Board of Trustees (listed below) that includes local and regional business and government representation.
Riverfront Park Master Plan
Significant progress to date includes the acquisition of numerous properties along the riverfront outlined in the master plan. This area has been reconfigured as park space, a key component of the blueprint for the future of downtown.  It is the site of special events and a splash pad water attraction.
Members
Mayor Michelle Collins
Mike Fink
Vanessa Glotfelter
Ron Holp
City Manager Keith Johnson
Steve Naas
Finance Director Jennifer Johns
Carrie Scarff
Miamisburg Merchants Association
Also working to enhance downtown is an active organization comprised primarily of downtown business people called the Miamisburg Merchants Association (MMA). The MMA meets bi-monthly to review issues important to maintaining and improving downtown as a viable place for successful commerce.  The City has a staff position that serves as a liaison with the MMA and helps coordinate a variety of downtown-related projects for the City.