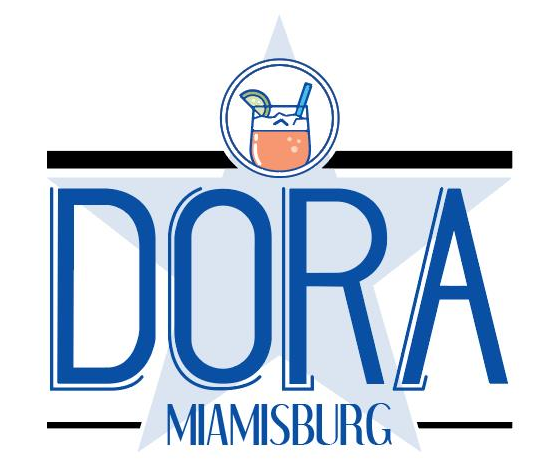 Miamisburg, Ohio – June 8, 2021:  The City of Miamisburg is joining ranks with several other communities in the region to establish a specific outdoor area in which possession and consumption of alcoholic beverages will be permitted in public spaces.
These districts are being created under Ohio law and are known as Designated Outdoor Refreshment Areas (DORA).  Miamisburg's DORA, approved by City Council and submitted to the Ohio Board of Liquor Control for review, will be located in the downtown district.  It is expected to take effect in late June or early July.
"A DORA is really an economic development tool, and we believe it has the potential in Miamisburg to bring increased activity and vitality to our downtown district," City Manager Keith Johnson said.  "The past year has provided some unique challenges for many businesses, and it's clear that more and more local governments are looking at this as a way to assist."
The application to create a local DORA was submitted to City Council by the Miamisburg Merchants Association, and a public meeting was held March 30 prior to City Council approval.  Approximately 50 citizens attended the meeting to learn details and share opinions about the concept.  A recording of the meeting can be seen on local government access TV and online at mvcc.net.
The city manager emphasizes that the City is committed to implementing the DORA in a safe and responsible way, in conjunction with downtown stakeholders.  He also said there have been no significant public safety issues reported by other communities in the region that have DORA's in place.
The following are the guidelines under which Miamisburg's version will operate:
•    The DORA will be in effect Thursdays (4 to 9 p.m.), Fridays (4 to 11 p.m.), Saturdays (noon to 11 p.m.) and Sundays (4 to 9 p.m.).  The City has the flexibility to adjust these periods at any time.
•    The only alcoholic beverages carried or consumed outdoors MUST be purchased from participating businesses in special DORA-marked cups.  Only one beverage is permitted per cup per use.
•    When a cup leaves a participating establishment, it cannot come back into that business or taken into another participating establishment.
•    The DORA boundaries will be marked by signage, and all cups must used and disposed of within those boundaries.
Participating establishments will display window stickers and be governed by existing liquor license requirements as they pertain to overserving, serving to minors, etc.  Other downtown businesses can choose to have stickers that specify whether or not alcohol is permitted in their business.
The city manager has the authority to adjust any of the regulations of the DORA, except that the boundaries cannot be expanded arbitrarily.  A working committee that includes merchants will be evaluating results and making recommendations moving forward.
An effective date will be announced after approval is received by the Ohio Board of Liquor Control.
#                       #                      #